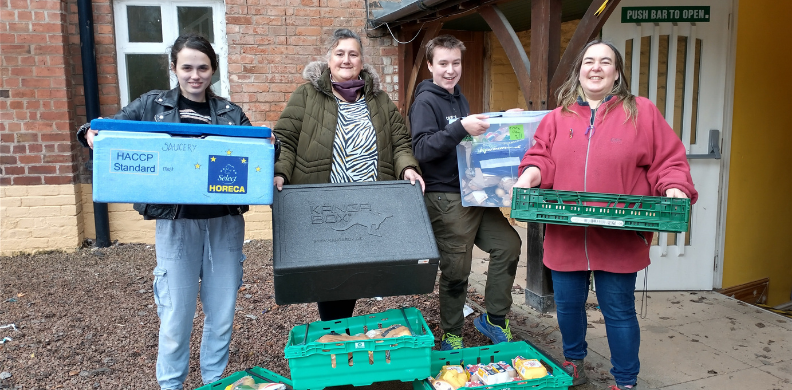 As Leominster Food Bank marks its 10th anniversary this week, local volunteer and coordinator Kathy Bland shines a spotlight on food and fuel poverty in rural communities.
"We set up the Food Bank ten years ago with a focus on helping people through short-term crises.
"A decade later, the short-term crisis is a demand for regular help that grows each week. We support people long-term who can not feed themselves and their families, pay the bills, or heat their homes. We are seeing an increasing number of people who are in paid employment, and we're deeply concerned.
"Our service now includes money advice, top up loans to cover fuel costs, mental health support via the Talk Community Hub, clothing, and food, but it's not a sustainable long-term solution. We now have more than 40 volunteers who collect food from supermarkets every day and ensure that food is available throughout the week for people who need it."
The UK's poverty crisis in rural communities is often a hidden element of this national topic of conversation. Hereford Diocese, The Church of England covering Herefordshire, South Shropshire, and parts of Powys, Monmouthshire, and Worcestershire, is mainly rural. It works in partnership with churches, faith groups, and other voluntary organisations to support a network of independent food banks across the diocese, serving a population of 326,000 people. "The work of food banks includes many people from our churches regularly donating food, cash and their time. We find ourselves on the frontline of the UK's poverty crisis and the many volunteers have all stepped up in extraordinary and generous ways, giving many thousands of hours of volunteer time to help." Explains Chrissie Pepler, Church and Society Link Officer at Hereford Diocese.
She adds: "We also know that there are fewer employers in rural areas and wages are generally lower than the national average. This means fewer opportunities for people to move to jobs and earn more money. Most workers have to travel to get to their place of work, and this requires a car because public transport links are limited. The combination of all these factors compounded by the increased living costs on householders means more people are turning to independent food banks even if they work.
"If they lose their job or become ill and are unable to work, finances can quickly spiral out of control, and people have to make stark choices between eating or heating. A low-income household can reach break down very quickly at the moment."
This piece might sound like a good news story about church organisations working with others in food banks, but it's not. Kathy is asking a lot of searching questions at the moment. She adds: "I am doing what I believe is right and just, but we do need to ask ourselves how and why we got here? Should any organisation set up to help people out of a short-term crisis be plugging the ever-widening gaps in welfare provision?" These are deep and challenging questions requiring policy and system change and leaders to work together to achieve a long-term solution.
So as Leominster Food Bank marks a decade, the team plans to celebrate the dedication and commitment of the fantastic volunteers and the generous loyalty of the local community who regularly donate food and money to keep it running. Kathy and the team will continue to fight passionately for what they believe whilst serving those who turn to the food bank for help. They hope that there will be a more just solution, one that will eradicate food poverty for good, and they pray that in another 10 years, there will be no need for the food bank, full stop.
To find out more details about the many independent foodbanks across Hereford Diocese, please visit our website: https://www.hereford.anglican.org/parish-support/church-and-society/foodbanks/
Each foodbank can supply a list of the food they most need and how to access each local service.