Lead Chaplain
Rev Gary Ward is our lead chaplain please contact him via email if you have any matters you would like to raise or seek any support in becoming a more accessible disability friendly church.
Meet the Chaplain - Rev Garry Ward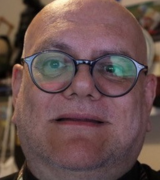 When did you start this role?
March 2020 just a the COVID lockdowns started. So, the first year was spent gaining knowledge for the role and supporting individuals via Zoom and social distancing.
What are the challenges and joys of the job?
The challenges are:
Making as many people as possible aware of disability issues. People think of the issues just as buildings and access for wheelchairs problems. But there is a wide range of obvious and hidden disabilities we as a welcoming church need to be aware of. Also thinking about change can often be a challenge. Change for the church community, change for the individual(s) affected by disability and change for families and their friends when disability impacts their lives.
The joys are:
Watching people grow in their knowledge and maturity of disability matters. Being able to support individuals and communities through change and acceptance. Finally, but by no means least, watching God work with and in people and to see their own ministries grow through either primary or secondary experience of disability.
Lastly how does your faith influence your role as Chaplain?
My faith informs my whole ministry and it gives me the passion to challenge for an inclusive attitude within the whole church. It also drives me to support and help everyone access and experience Christ through the church in the best way possible. Equality is the essence of Christ's Gospel and gives us an imperative to treat everyone as we would like to be treated ourselves – with love, empathy, pastoral care and an open mind.
Dementia Church
Hereford Diocese is working to encourage and support our churches and communities to become more dementia-friendly. You can choose to be a part of that with a few simple steps that may lead to actions that enhance the quality of life and physical, emotional, and spiritual wellbeing of those people who live with dementia and their carers. For more information on making your church more dementia-friendly or to book a local training course contact Elizabeth Wild.
Deaf Church
Deaf Church is a community of people from across the diocese who worship using BSL (British Sign Language). We come together each month for a service. Anyone is welcome to join us – deaf or hearing. Find out more here.
We know that many deaf people who use British Sign Language (BSL) do not have easy access to ceremonies including baptisms, weddings and funerals. BSL/English interpreters should be used if required in order that they have access and are included in these types of service. For frequently asked questions and interpreters, click here.