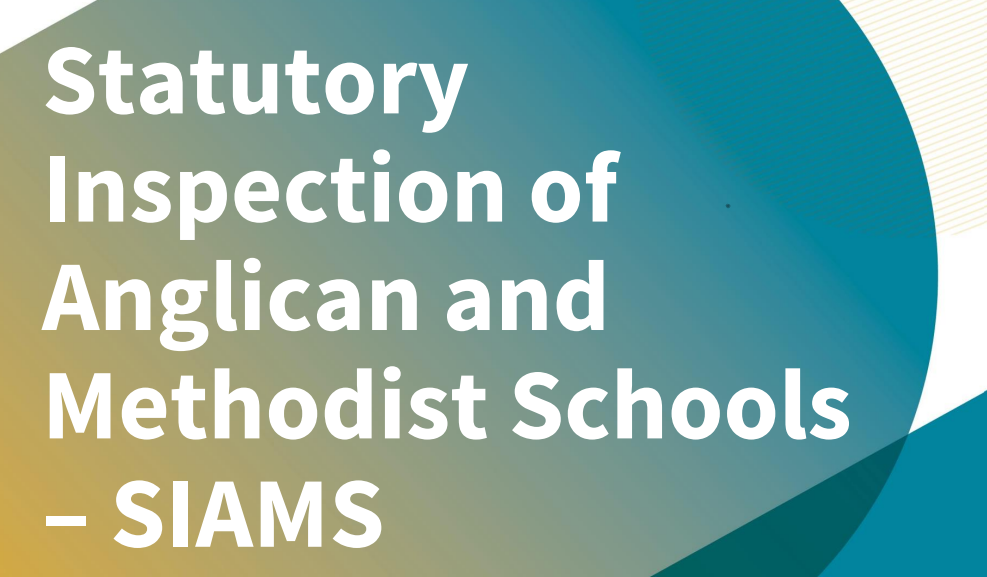 NEWS:
SIAMS inspections resumed in the Autumn term 2021 under a new national administration system and with a revised schedule for inspection. There is a backlog of inspections due to their postponement during the Covid-19 lockdown so the new National SIAMS team have provided an update for schools to explain how the new process and scheduling of inspections will take place. This includes a published list of schools that should expect an inspection in the current year.
Information for Schools
The newly revised SIAMS schedule (September 2022) can be downloaded from the Church of England SIAMS pages along with the following documents to support schools (these are regularly updated on the SIAMs web page):
SIAMS Revised Evaluation Schedule (September 2022)
SIAMS Information for Schools guidance (regularly updated)
SIAMS Appeals and Complaints Policy
SIAMS Inspection Deferral Policy
SIAMS COVID-19 Policy
There is an optional letter to parents, that schools may wish to use to inform parents of their SIAMS inspection date and the purpose of the inspection. Click here to download this letter.

Statutory Inspection of Anglican and Methodist Schools (SIAMS)
All Church of England schools undergo a Statutory Inspection of Anglican and Methodist Schools (SIAMS). SIAMS inspections are carried out under Section 48 of the 1988 Education Act and in addition to Ofsted (Section 5/8) inspections (2005 Education Act). They are overseen by the National Society. The purpose of SIAMS is to evaluate the distinctiveness and effectiveness of a school as a church school.
The key question posed by SIAMS is:
How effective is the school's distinctive Christian vision, established and promoted by leadership at all levels, in enabling all pupils and adults to flourish?
This is explored through seven strands:
Vision and Leadership
Wisdom, Knowledge and Skills
Character Development: Hope, Aspiration and Courageous Advocacy
Community and Living Well Together
Dignity and Respect
The impact of collective worship
The effectiveness of religious education.
The purpose of SIAMS is to evaluate how effective the school is as a church school in terms of meeting the needs of learners. These needs include well-being, personal development, safeguarding and academic progress.
Leadership, management and governance are evaluated from the perspective of the school being a Church of England school.
SIAMS Grades
The present SIAMS schedule provides grade descriptors for a 'Good' church school. This will be the norm for the vast majority of schools. The inspector will be looking for evidence to support that the school is 'Good'.
If a school falls below 'Good' it can be either 'Requires Improvement', or in the worst case 'Ineffective'.
Where there is evidence of the school's distinctively Christian vision having a transformational impact that is deep and far reaching, then the inspector may be consider the new grade of 'Excellent'. This is not equivalent to the previous grade of 'Outstanding'. There are no grade descriptors for Excellence as it is based on the transformational and deep impact that the individual school's Christian vision brings to the flourishing of the adults and children within it. Please see pages 18-20 of the schedule for further details.
All schools are given an overall grade based on the whole schedule, plus a grade for the 'Impact of collective worship'. Religious education is inspected in both Voluntary Controlled and Voluntary Aided schools. However, in a Voluntary Aided school, or Academy with VA articles, they will also be graded for the effectiveness of teaching and learning for Religious Education.
SIAMS and Self Evaluation
Expectations for self-evaluation of the SIAMS schedule have changed. It is good practice for schools to carry our Self Evaluation of their development as a church school, with the focus being on the impact of their Christian vision.
To simplify the inspection process, schools are advised to produce a two page (maximum) summary of its self-evaluation. This Summary is then sent to the inspector for them to form their liens of enquire. Schools are free to create this summary in any form they choose (e.g. prose, mind map, flow diagram). When in school the inspector may ask to see the ongoing SEF and other documentation to support the process.
The National Team have provided sample templates for both the ongoing full SEF and the Summary SEF. These are for guidance only, and are not required formats.
Ongoing Full SIAMS SEF example
Schools are advised not to grade themselves in either the full ongoing SEF or the Summary. This is for the inspector to gauge. Instead schools should indicate areas of Excellence through the language and evidence of impact within their SEF (refer to pages 18-19 of the schedule for examples).
SIAMS Support and Training
The Education Team provides a comprehensive suite of courses for both school leaders and governors to support them in their SIAMS self-evaluation process and to prepare for their SIAMS inspection. Please see the training page, link below.