We see ourselves as practical as well as prayerful...get to know us better locally in these pages, and at the national and worldwide level here.
We have branches throughout the diocese, and you're always welcome to join us.
Branches in our diocese: Bishop's Castle, Bodenham, Bucknell, Church Stretton, Cleobury Mortimer, Colwall, Cradley, Mathon & Storridge, Cusop, Hereford St Nicholas, LAPH, Ledbury, Leominster, Marden, Moccas & Preston on Wye, Much Wenlock, Arrowvale (formerly called Pembridge), Pontesbury, Ross-on-Wye, Sutton St Nicholas, Yockleton
Coronavirus - Unfortunately due to restrictions we are unable to hold midday prayers or any other events at this time. The Mothers' Union website offers resources and online services that you can access from the safety of your home. Please do get in touch if you want any additional information.
Contact and Useful Information
We are based at The Palace in Hereford where we have an office.
opening times
Our office is usually open on Mondays, and you should get a response to telephone or personal calls between 9.30 am to 4.00 pm
address and contact information
Meet the Chaplain - The Revd Penny Littlewood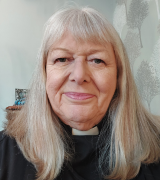 When did you start this role?
Bishop Richard Frith asked me if I would like to take on the role in 2018 following my 'retirement' from full time ministry in the autumn of 2017.
What are some of the challenges and joys of the job?
The challenges of the role of Chaplain to the Mothers' Union, are mainly much the same I suspect as in general church, i.e. elderly, dwindling members in the UK alongside the more northerly branches of MU in our Diocese finding themselves feeling a little cut off from the centre. However, the thing that causes our Head Office in London and all Trustees the most concerning thing is that there appears to be nationally, and locally, a lack of knowledge about the vast international scope of Mothers' Union and its work, by a great many of the clergy. Nevertheless, with the support of the Hereford Diocese which we have been given, we have now prepared and are launching a clear and simple Clergy Pack which explains all. The great joys are being experienced in the growing numbers of members who are now travelling to be together to worship and share fellowship in a variety of special services, day retreats/study days, get togethers, which now take place all over the Diocese so that more are able to attend without too much travel - much tea and cake being consumed at the end of every event! We operate our own Prayer Chain for anyone individual with a specific need or a more worldwide concern. Prayer is the cornerstone on which each branch operates; beginning each meeting with at least prayer, but often a simple act of worship.
Lastly, how does your faith influence your role as a Chaplain?
My own faith very much underpins every aspect of what I try to do for the Mothers' Union - the strap-line in our logo being "Christian Care for Families", speaks to me very much about seeing everyone as part of the Christian family of Christ; who is my neighbour, who is my brother or sister when all are one body of Christ! We love one another and care for one another, as God loves and cares for each of us.
Contact Revd Penny Littlewood
Union Membership and Links
If you'd like to join us (and with over 4 million members worldwide, you'll be in good company!)
Membership and Fees
If you think you might like join us do take a look at the
membership service
.
We pay membership subscriptions to support our local and international charitable work, as well as fundraising. Our annual subscription for 2021 is £30.00 for branch members, £20.00 for indoor members, and £30 for diocesan members - enquire to see which option would be most suitable for you - 01432 373306 or via the Mother's Union email Download a Membership Form here.
Diocesan President
Our Diocesan President is Andria Lewis
Members and Trustees
The other members of our Board of Trustees, who oversee and manage our work, are:
Janet Bumford, Anne Newman, (Action & Outreach-CIF), Linda McKinley (Finance & Treasurer/AFIA, CIF), Kalyani Menon (Faith & Policy, and Worldwide Links), Barbara Glasspoole, Sylvia Loader (MU Enterprise), Jean Pryke and our Chaplain, the Revd Penny Littlewood.
Other Members
Margaret Walker, cares for our Indoor Members.
Link Dioceses
Our Link Dioceses are: Yambio, in South Sudan; Garissa, in Kenya; Mbamili, in Nigeria; Willochra, in Australia: and Thailand.
Useful document downloads
Our Projects
As part of our plan, we have established three local projects which look to help those whose family life has met with adversity. Read more about each project and how you can help:
Away From It All Breaks & Treats
We offer breaks and treats to families experiencing stress. Families are referred via various agencies, and we attempt to find (and fund) a break or treat that will give them a chance to get "away from it all".
We need:
money to fund the breaks and treats
volunteers to serve on the AFIA Committee
referrals from clergy, teachers, social workers etc for those who might benefit
Please contact the office by telephone on 01432 373306 or e.mail to receive further information and the application forms.
Crisis Intervention Fund & Store
A new start in a new home is a lot more difficult if you have nothing to equip it with. We support a number of local agencies with goods and funds to help people get back on their feet again.
We need:
good quality, clean kitchen equipment
small household goods including bedding and linen
baby equipment
Hereford Hospital Wash Bags
If you arrive in hospital as an emergency, say after a road accident, a fall in the street or having been suddenly taken ill at work, you haven't had a chance to pack a bag. We provide the hospital with wash bags and toiletries for such people.
We need:
simple wash bags containing toothbrush, toothpaste, small unscented soap, flannel, small shampoo, comb, small packet of tissues
money to buy supplies
We also support a number of other smaller projects:
We also offer clergy officiating at church weddings the chance to present the happy couple with a card to accompany a candle as a souvenir of their day. We hope they'll light their candle again on their anniversaries.
Christmas Gifts for Clergy
We need:
money to buy ribbon and cards
requests from parishes for supplies of the cards for their wedding couples
And we have this leaflet available for keeping wedding costs down.
Download – wedding ideas leaflet
Other Projects
Recently, we sent all our Indoor Members a small cross – it's such a useful pattern, we thought we'd keep it here for you!
Download: cross in my pocket instructions
We also encourage our members to support their local food banks and get involved in their parishes and communities. Here are some more ideas for getting involved On Your Patch.
Download On Your Patch leaflet
Prayers
Our faith is at the heart of what we do and we host a variety of prayer events and days.
Midday Prayers 2021
Every day, our members join in a worldwide Wave of Prayer at Midday. Every month on the second Thursday we hold a service in the Audley Chapel of Hereford Cathedral.
Midday Prayers at the Cathedral – do join us if you are in town!
Dates for when we are able to resume meeting
January 14th
February 11th
March 11th
April 8th
May 13th
June10th
July 8th
August 12th
September 9th
October 14th
November 11th
December 9th
Midday prayers resources leaflet
Members receive a copy of our prayer diary – Twice a year – to help us in our intercessions. If you would like a copy, please ask – we may have some spare.
Wave of Prayer
All dioceses with a Mothers' Union have links with other dioceses throughout the world. Our special links are with:
Yambio, South Sudan
Garissa, Kenya
Mbamili, Nigeria
Willochra, Australia
Thailand
And our turn (with them) in the Wave of Prayer is 8th – 10th June every year – when all our sisters and brothers throughout the world are praying especially for us, just as we pray for them in turn.
Our Worldwide Co-ordinator, Kalyani Menon endeavours to stay in touch with our own link dioceses, and reports at our twice-yearly Council meetings on any communications she has had with them.
Lady Day Services/Events 2021
Lady Day – the Feast of the Annunciation, usually on 25th March – has traditionally been a special day for us, and we mark it with services where we gather together around the diocese.
We regret that due to the Corona Virus the Lady Day Services are cancelled, if we are able to set up virtual meetings/events we will let you know.
Mothering Sunday – Make a Mother's Day! March 14th 2021
Mothering Sunday is, as you might expect, also a special day for us, and resources and ideas are available for services and other activities.
We also raise funds for our worldwide projects with the Make a Mother's Day campaign – please take a look at the virtual gifts available, and support our work for women and families everywhere.
Quiet Days/Meet and Greet/Study Days 2021
We organise Quiet Days and other events for our members to gather together in prayer, and for meditation and bible study. Details of each event will be added here. All are welcome to join us.
These will be confirmed nearer to the time.
Our Diocesan Chaplain is the Revd Penny Littlewood, who is always willing to support us in spiritual matters – please ask!
Mother's Union News
There are always lots of events and activities happening. To find out more do get in touch.
Wave of Prayer Week
Our Wave of Prayer Week is 8th to 10th June. Our theme for 2021 Rebuilding Hope and Confidence.
We will update our website with details of meetings and events when it is safe to resume so.
If you require any further information please contact the office on Mondays – telephone 01432 373306
Council Meetings
We meet several times a year, please do join us at a meeting.
Dates for your Diary
June Mon 21st Council, Kimbolton Village Hall
October Mon 11th Council, Kimbolton Village Hall