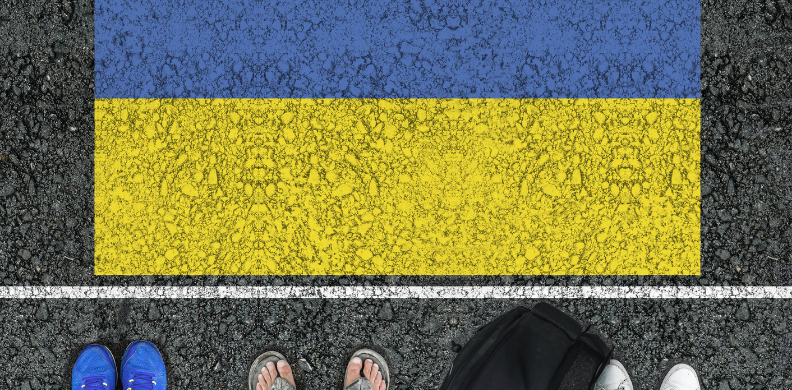 The Diocese is partnering with Citizens UK to support a quick, safe and caring response to settling Ukrainian refugees under the Government's new 'Homes for Ukraine' scheme.
Here in Hereford Diocese, we have been overwhelmed and grateful for the kind and generous offers to host Ukrainian refugees. There are still many more hosts needed. The government scheme doesn't match individuals or organisations with those needing homes.
Liz Mackay, Church Support Officer has developed some guidelines for helping churches and individuals who seek to offer a home or a place in the community to Ukrainians or who know people who want to take part in this scheme.
Liz explains: "The UK Government scheme requires every refugee to have a named host offering accommodation before being granted permission to enter the country. This means anyone wishing to offer a home needs to know people in Ukraine - this is a challenge. In addition to identifying known individuals, other considerations must be made, including arranging safe passage to the UK and ensuring appropriate safeguarding considerations and any support are in place upon arrival.
"We've decided to partner with Citizens UK because they have a long track record of supporting communities who welcome refugees. They will provide all training, a process, and appropriate support to help us build capacity and play our part here in the Diocese.
The ask:
Please help us identify accommodation/hosts.
Please share any contacts you have in Ukraine especially if you know people who need accommodation.
Provide precise details about the size of the family that each host can support and accommodate (be realistic).
Provide a warm welcome and ongoing support once people arrive.
The offer:
Citizens UK will use new connections and opportunities that they are developing to help us identify people and match them to hosts.
Matched hosts and refugees will need to complete the paperwork themselves.
Citizens UK will then work with the matched refugees and with us to arrange travel, safeguarding checks, source translators if necessary, and provide training on how to best support both hosts and refugees.
Liz adds: "Our ambition is to gather clusters of offers in an area. We will link people up to support one another (if you are not already linked up, we know several groups have already formed). If you are already co-ordinating a community approach in your area, please get in touch as becoming part of this collective approach should strengthen us all.
"This offer is open to all who wish to offer accommodation, whether they attend church regularly or not.
"The offer is also available if you have already identified someone in Ukraine but would like support with form-filling, travel, support once people arrive, etc. It is worth noting that Citizens UK is working closely with Sanctuary/Reset, who have set up the online portal for matching hosts to people in Ukraine. Although Citizens UK plans to use the connections and opportunities they are developing to help us identify Ukrainian refugees through a separate route, you are welcome to register directly with Sanctuary/Reset. This charity can also match you with a group or individual refugee, but please do keep in touch for support once you have been matched."
Please get in touch with Liz Mackay via email: liz.mackay@hereford.anglican.org or phone her on 07484 679671.
You can also contact your local coordinator where you have one (if you aren't sure if you have one, please contact Liz, and she will connect you). Liz is asking individuals and Churches not to go directly to Citizens UK as she is seeking to build a single approach across the Diocese, where we support one another and all refugees who come to us. It is also essential for the Citizens UK approach to work that we work together and they are focussing their efforts on developing the contacts and matches in Ukraine.