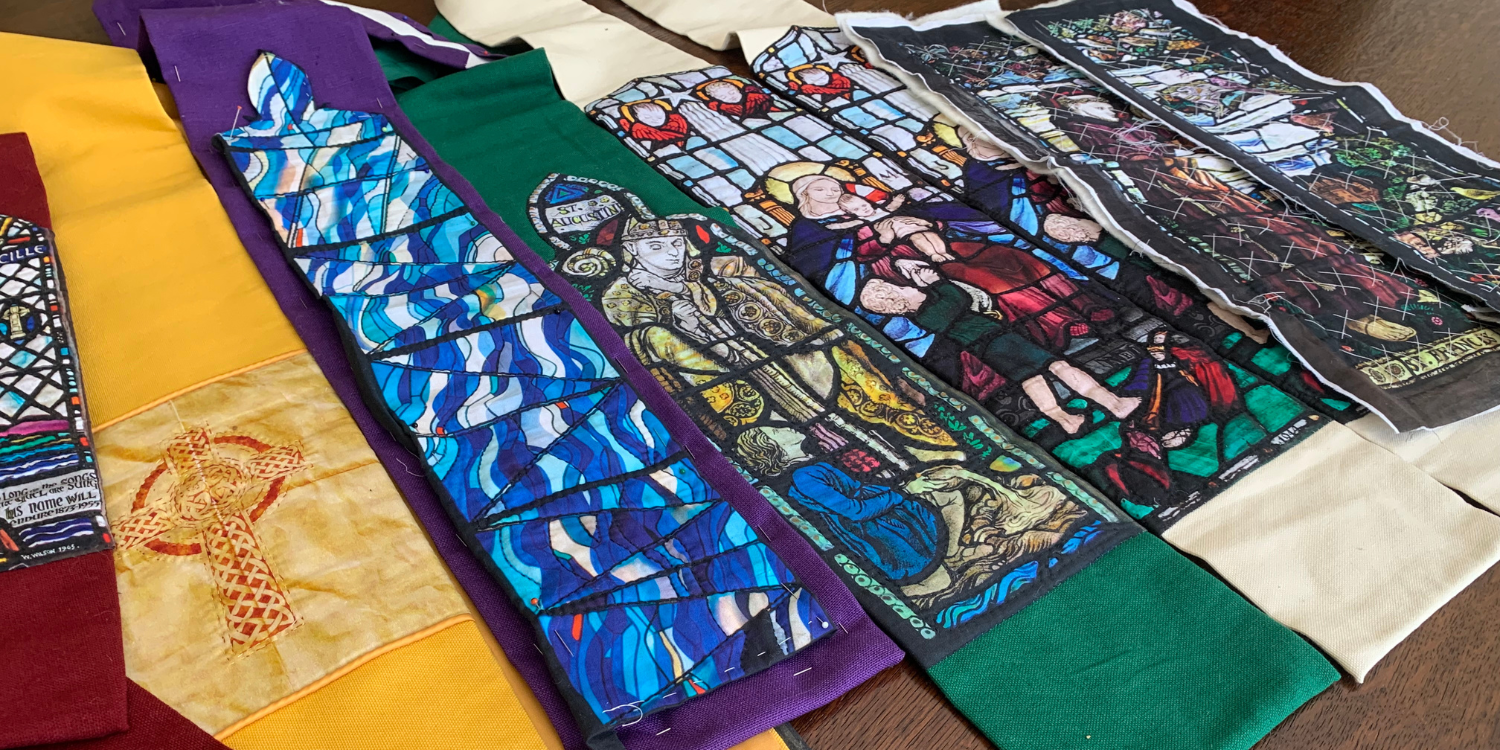 A churchwarden in Herefordshire has crafted her own approach to supporting her local church by combining her passion for needlework with a unique line of designer embroidered clergy stoles.

St Thomas à Becket Church in Huntington, which is part of Kington Benefice in Herefordshire, has always raised money through the sale of jam and other items. Fiona Shone, churchwardens, has developed a new source of income for the church, selling her uniquely designed stoles to vicars and giving a percentage of her small business profit back to the church. Each stole is a unique design and reflects the stained glass windows found in the many old church buildings of the diocese and beyond.
Fiona explains: "I have always enjoyed crafting, particularly embroidery and patchwork. I was delighted when a few years ago, our new curate shared my passion. We spent many happy hours together crafting, praying and chatting. During one occasion, Linda [the curate] told me about new clergy robes." This inspired Fiona to take a closer look at clergy robes in the vestry and led to the creation of a special gift for her friend.
Fiona sought inspiration and decided the church's stained glass windows provided a suitably unique design. She explains: "These days, it's quite easy to turn any photograph into printed fabric. I was able to create an image, quilt around the leading of the window and stitch that onto a stole, all hand sewn - Linda was thrilled with the final outcome."
The stole sparked a lot of conversation and interest from other local clergy who enquired where Linda had found the item. "As it happens, there are only a handful of clergy outfitters left in the country and even fewer offering a bespoke design service using ethically produced fabric. I realised there was clearly a potential market for this type of item," Fiona adds.
Encouraged by the feedback, Fiona launched her fledgling business and is starting to build a small pipeline of new orders. As each item is handmade, she can only produce a limited number of stoles per month. She adds: "I am happy that I can use something I enjoy doing to bless others whilst also making a contribution to my own church. I have managed to source organic sheep wool quilt wadding and use an organic fabric supplier in Wales, all of which help reduce the carbon footprint of the process. I've also begun exploring some of the background and history of the artists who created our churches' original stained glass windows. This adds another layer of personalisation, which adds to the meaning. The only thing I haven't sorted are my sore fingers from all the needlework!"
Fiona's designs can be seen on her Instagram site @stained_glass_stoles. A donation of £25 for every stole goes to the parish church of Huntington.