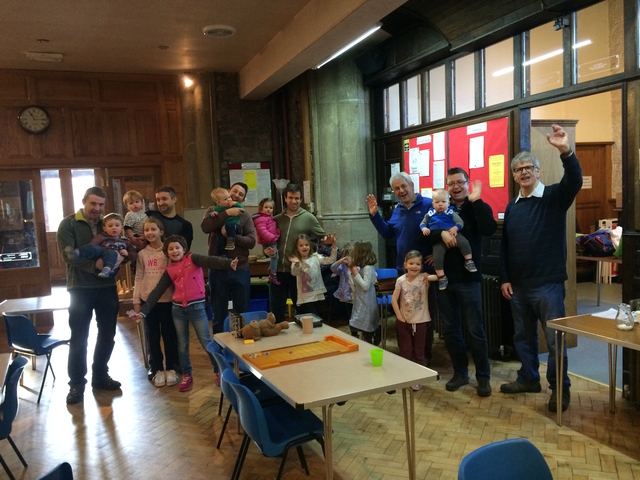 "By inviting families we found that children came with their mum, but by starting a group specifically for dads they also started to come along too"
That's the experience of St George's Church in Pontesbury. They have been focusing on intentional activities involving the children who already attend the parents and toddler group, Little Dragons and the families they are in touch with through schools work.
Inviting the dads, through their established network of mums and grandparents who bring children to Messy Church or their toddler group, Little Dragons opened up a new way to connect with family members and to begin to strengthen those relationships.
Since its start a year ago, eight or nine dads now bring their families to the Saturday morning church meet up which also involves bacon sarnies. The number can vary as the group has also built a relationship with fathers who only have their children stay with them on weekends. Children and Families Worker, Mark Hackney described how the group fits into the Growth Cycle as outlined by the Bishop of Chelmsford Stephen Cottrell in his recent filmed lecture in Hereford,
"When I first got here I looked at all the activities that we were putting on and we were doing 31 different activities that were connecting or sowing. Therefore, there were plenty of one-off groups or meetings where we were in touch with families but not doing anything about our faith.
"The next thing I would like to do is invite people to more social occasions with food where they can get to know us, we can get to know them and we can have conversations.
"We also need to do more to tell people at one event about another meeting or service that might interest them, but remembering that this is not only about Sundays it's about church 24/7 to fit in with modern life where people, particularly children are very busy."
St George's in Pontesbury has also been looking at how it can better equip its wonderful volunteers who give up their time to help at events like Messy Church for their vital role of welcoming families and sharing the Good News with them. They have held courses and training sessions to help develop their Christian witness and ability to express how being a Christian influences their life. Mark continued:
"We've got 50 families that we're now in contact with and we are looking to complete the cycle, to develop the nurture side of things.
"The first step was to get the PCC to sign up to the growth cycle and then the Diocesan Little Steps strategy and they said yes - so it's a really wow moment for us, a feeling that we are really getting somewhere."
"This commitment from the PCC and also by the LMDG means that we can put on more intentional activities but of course as Bishop Stephen said 'God is the evangelist', God is the one that does it and we've just got to keep on being truthful to the Gospel and telling people why we are Christians and let the Holy Spirit work in their lives."