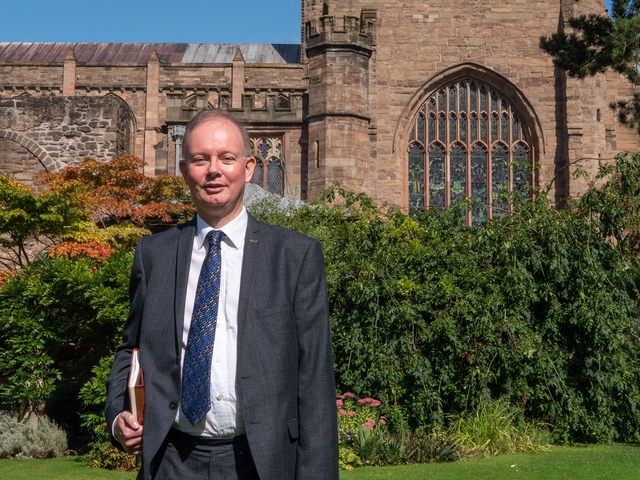 Jeremy Wilding, Partner Gabbs Solicitors based in Hereford takes up his appointment as Registrar for Hereford Diocese.
His appointment to Registrar is formalised and follows a competitive tender process last year, which saw the local firm, Gabbs, beat national firms to win the contract.Mr Wilding was welcomed into his role by the Bishop of Hereford The Rt Revd Richard Jackson on 1 August 2020, a more formal service is planned for later this year.
Bishop Richard said: "I am delighted to welcome Jeremy as our new Diocesan Registrar. It is wonderful to have Jeremy as part of the team and to be working with such a local well-known firm."
The Registrar oversees services to the Diocese of Hereford, providing advice to members of the public, Parish Churches, Parish and Diocesan Officers and Clergy.
Jeremy Wilding said:
"I am honoured to be appointed as Registrar for Hereford Diocese. I am particularly looking forward to working with the Diocesan Staff providing advice on all church matters to ensure that our many beautiful churches are able to thrive and provide the local population with the support and services they need from their parish church.
"It is the Registrar's responsibility to make sure the regulations that govern the duties of the Church of England are accessible to a wide audience including Diocesan staff, clergy and the public. The position-holder is required by law to issue marriage licences, oversee requests for work on church buildings and maintain historical records.
Mr Wilding assumes this position alongside his current role as Director at Gabbs Solicitors. He is the Under Sheriff for Herefordshire and was previously Chair of the Hereford Three Choirs Festival.
Jeremy will be supported by Michelle Wilmot who takes on the role of Clerk to the Registry. Michelle, who grew up in Herefordshire, worked until recently in a management role with a national firm of surveyors.
For more information about the Registrar to Hereford Diocese, please go to: https://www.hereford.anglican.org/registrar.