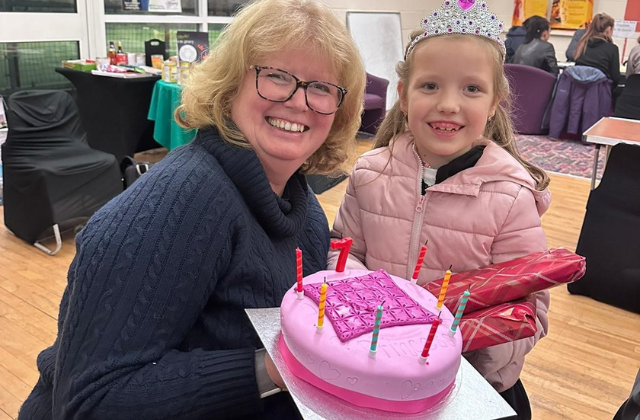 photocredit: Lesley Grady a hub co-ordinator celebrating with a young Ukrainian
The Church of England in Herefordshire and south Shropshire (Hereford Diocese) which is supporting Ukrainian refugees has received a trio of grants totalling £115,000. The grants which come from Herefordshire Council, Awards for All and Citizens UK will be used to sustain the Homes for Ukraine scheme, providing support to local sponsors and Ukrainian Guests across the county.
Since March, the Diocese has helped find homes for around 250 Ukrainians and aims to support individuals and groups helping the county's growing Ukrainian community as they establish new lives in Herefordshire and south Shropshire. Alongside the grant to the central diocese, another Church of England church, in the heart of the city, St Peters and St James (SPSJ Hereford), were also lucky enough to receive funding to support their work.
The Diocese and SPSJ have been working together, helping Ukrainians to navigate their way through the system of support. Much of the work involves providing practical information, advice and getting access to essential services. The diocesan team also coordinate and match volunteer hosts to those seeking to settle in Herefordshire. The new grants will be used to create and sustain a dedicated staff team and recruit more hosts and sponsors.
Wendy Coombey, Support for Ukraine Project Lead, for Hereford Diocese said:
"We are very grateful to our donors for their generous grants. They will enable us to continue working with Citizens UK, Herefordshire Council and our other voluntary sector partners.
The number of Ukrainians now seeking refuge in the UK has risen as the war in their country continues into winter.
Wendy adds: "The scheme faces a number of challenges, which we must address, particularly with housing and transport.
"These grants will ensure we sustain support and continue to offer advice making our Ukrainian guests feel welcome in this county."