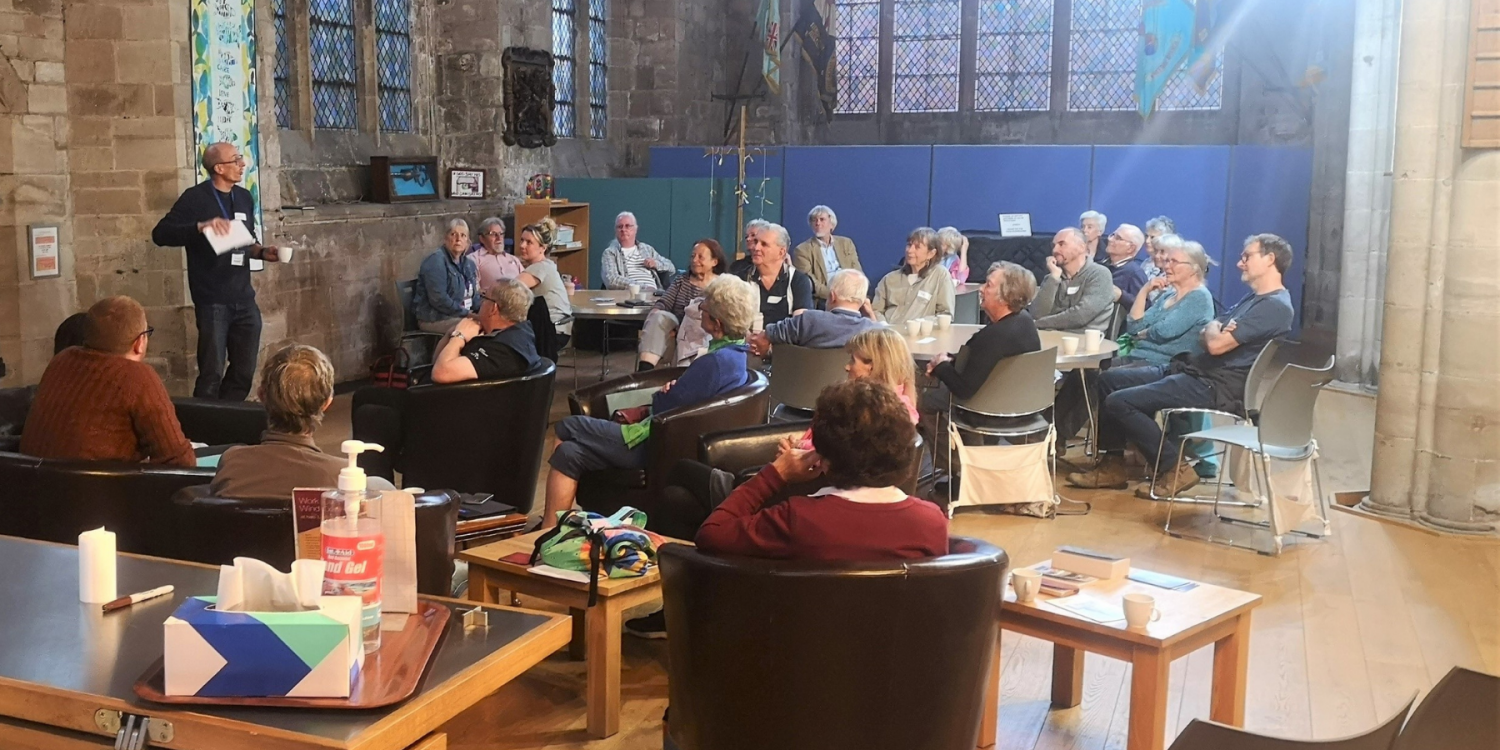 It's a Monday night in central Hereford over at St Peter's Church in the city centre; the church has opened its doors to welcome those attending their weekly Hosts Gathering. This is a support group coordinated and hosted by the church for people across the city who are hosting or seeking to support recently arrived refugees from Ukraine. In recent weeks, the event has also been home to a small community of Ukrainians who have come to spend time with one another, and with the team, in parallel with their hosts.
"We can provide a venue, facilitate discussions, offer support and chaplaincy, and have done a lot of the leg work liaising with different branches of the council and other partner charities. So far, we have more than thirty host homes that we've supported in some form or other, and we're meeting increasing numbers of Ukrainians who have arrived in the city." Explains Tom Milton, Head of Operations at St Peter and St James, Hereford.
The Church of England in Herefordshire and South Shropshire remains a significant partner in many market towns and villages that fall within the diocese. This is often because the statutory agencies rely on more voluntary organisations but still require rigour in the process that few can offer.
This attitude reflects a pattern that the diocese saw emerge as people struggled for support during the lockdown. The church is often the last gathering place that is still open in many rural villages and often holds strong connections with the local community even if fewer people worship each Sunday.
"We know that we don't exclusively lead the way or own the monopoly on acts of kindness, but we understand that we're called to do as Christians.
"It is wonderful to witness this outworking of the common good. We're happy to work in partnership, facilitating or coordinating support." Adds Liz Mackay Church and Society Link Officer at Hereford Diocese.
When the war in Ukraine began in February, many of us felt inspired to take immediate action, offering time, money, and donating to help the people of Ukraine. Indeed the launch of The UK Government's Homes for Ukraine scheme saw several million homes sign up within the first few weeks.
"The [government] scheme however didn't offer to match those offering a home with those fleeing Ukraine. That job was left to the international non-governmental organisations, charities and individuals to resolve." Explains Liz.
Liz has coordinated the response from the diocese, working in partnership with Citizens UK to try and facilitate matches between hosts and those seeking a home in this part of the country.
"In the last month or so people have begun to arrive and this is where the work has really started.
"The old adage 'it takes a village to raise a child' is no truer for the care and support needed to help Ukrainian refugees settle into life in rural Shropshire or a home in the market towns of Herefordshire." She explains.
"Thankfully, there are many willing hands and the depth of response from churches and community groups is humbling."
The team at St Peter's and St James' Church in Hereford are just one example of the types of support hubs that have sprung up all across the diocese. It's safe space to talk about the emotional demands of opening your home to strangers. To ask questions about how to register for school places or where to get additional support for the cost of living. The weekly meeting is an open invitation to hosts, whatever their beliefs or background, to join together with other like minded people for mutual support and encouragement.
"Getting together with other hosts is the highlight of my week." Explains Val, one of the local hosts. "'These Monday evenings have saved us so much time and effort as much of the necessary information we need to help our guests is still being worked out. The personal experience of others - gained through trial and error - and the kindness and forward thinking of the organisers, Andy and Tom - has meant we have been far better prepared than we would have been. And we have made friends with other sponsors becoming a network who can share and support one another - so actually I really look forward to Mondays, meeting up with new friends I have made!."
In recent weeks, on the other side of the building, refugees have also been coming, and the team has been able to welcome them and give them a safe space to find support and speak with other Ukrainians.
One of the Ukrainian guests explains: "Our Monday evenings are very helpful for me because it's the best way to find out important information, meet new people who are really friendly and want to help you. I am happy to have nice conversations with people from the UK and learn more about this interesting country. Last but not least, I am able to meet people from Ukraine, make new friends and share my experience with them and I think that's beautiful."
For further information about how churches and individuals can take action to support those arriving both through the family visa scheme and the humanitarian sponsor scheme visit or find more information on the Hereford Diocese website. If you are looking to offer support at the local meeting in St Peter's, contact Tom via refugeesupport@spsj.org.uk or 07984 321 969, or to set up a similar network in your local area, or find out about one of the other 20+ networks across the diocese please contact Liz Mackay, Church and Society Link Officer via email at: liz.mackay@hereford.anglican.org or phone her on 07484 679671