Bishop of Hereford's Message
This section contains transcripts from the Bishop of Hereford's video messages.
Hello everyone and welcome to this weeks video, I hope you've had a good week. One of the many misunderstandings people have about the Bible is that its just a set of propositions and rules. Close examination reveals it a library of books of different literary styles.
---
Hello everyone and welcome to this week's video. At the moment the river Wye behind me is flowing fairly gently. Just a few months ago I would have been 20' underwater. The river back then was quite scary, uprooting substantial trees and spreading them downstream. Even now there are hidden currents powerfully at work under the surface where you need to take great care.
---
Hello everyone and welcome to this week's video. I'm sure many of us will have reacted with joy to the news that public worship under quite severe restrictions can begin again from July 5th.
---
Hello everyone and welcome to this week's video, and thank you for your feedback -positive and negative on last weeks. Communities develop their own corporate personalities.
---
Hello everyone and welcome to this week's video. I'm sitting in one of my favourite places in the Cathedral, the Chapel remembering Thomas Traherne. His writings frequently explore the glory of creation and what he saw as his intimate relationship with God.
---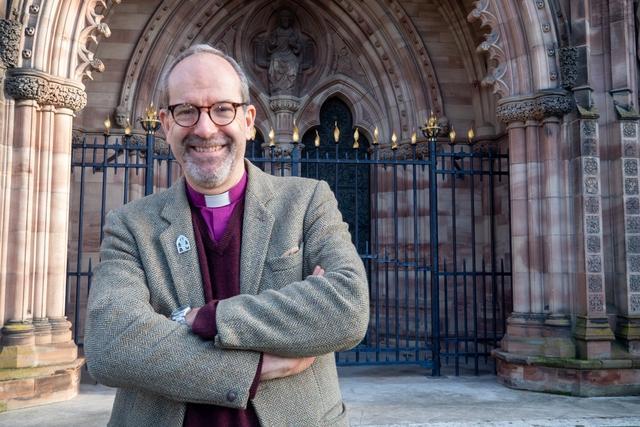 ---
Hello everyone. This is going to be the first of a weekly video I'm going to send out while the coronavirus crisis continues. I'm conscious this isn't an ideal start to my ministry as your Bishop
---
Hello everyone. I hope that you are all bearing up in this strange new world. I've certainly been inspired by the stories of creative engagement and pastoral care going on across our diocese
---
I was never brilliant at maths at school. I remember the experience of maths lessons where the teacher tried to explain new concepts to the class.I recognised the individual words, but put together in a sentence, they made no sense to me at all.
---
This time of isolation makes communication very difficult.We can talk at a distance and connect through social media in many ways, but it's no substitute for a face to face conversation.I'm conscious of that as I share with you through these videos.
---