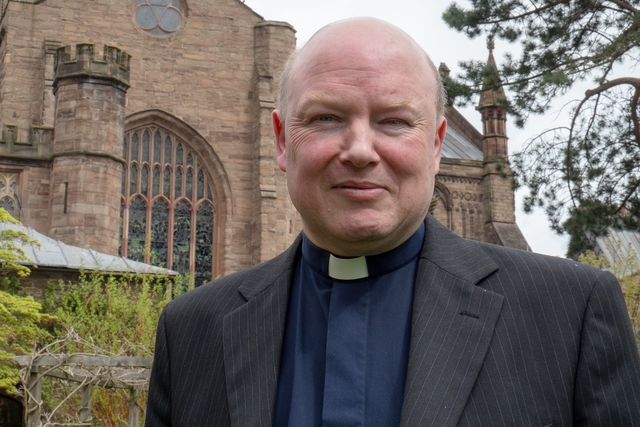 Growing up I had a real soft spot for the work of Gerry & Sylvia Anderson. Even if you don't know their names you will recognise their credits: Thunderbirds, Captain Scarlett, Fireball XL5, UFO and Stingray to name just a few! The one that sticks in my mind is the opening to Stingray. As you watched futuristic jets flew overhead, security buildings sank into bomb proof bunkers, missiles streaked skywards and an appropriately dramatic voice rang out 'Anything can happen in the next half-hour'. Except it was all rather predictable and very rarely the case. In some ways this is a bit like church, if we are not careful it all becomes rather predictable. I don't think I am being cynical but that is often my experience as I talk to people that on the whole we want a predictable settled church life. So often when we are asked what happened in church we will say 'just the usual', or 'nothing much' as if that is what we both want and expect.
Certainly when we start to talk about change we very quickly get fairly negative reactions as if church is the one place that is supposed to be change free. For years I and others have been told that change is hard because people don't like change. It turns out that is perhaps not the whole story as the latest research shows that it is not that human beings don't like change it is more to do with we don't like the way that change is imposed or forced on us. Change in and of itself isn't necessarily a bad thing but change that is handled or introduced badly is something that most of us are hard wired to resist! The more I thought about this the more I reflected on changes I had struggled with and stubbornly tried to resist. The problem we all face at present is the changes brought about by COVID19 are beyond our control, no one consulted us and no one asked us nicely first! This creates a real problem because instinctively we feel 'done' to!
However, the key to surviving and dare I say it thriving in the present situation is to remember that God is not constrained by the changes we are seeing in our world. The writers of the Old Testament in particular understood in a powerful way that God
was not changed by circumstances and his love for us is not diminished by them either. The prophet Malachi wrote;
"For I the Lord do not change; therefore you, O children of Jacob, are not consumed." Malachi 3:6
Our faith is in God who is not challenged or changed by our circumstances he is the rock on which our lives can be built. When Jesus told the parable of the wise and foolish builders he was telling us that we have a choice. We can build our lives and shape our values on things that shift like sand or we can build them on the foundation that is God. The problem is we tend to build on things which are not God. When the storms of life come and they inevitably will, our foundations are not secure. John picks up this theme in his letters reminding us that we need to build our lives on Jesus and not on fleeting things.
"Let what you heard from the beginning abide in you. If what you heard from the beginning abides in you, then you too will abide in the Son and in the Father." 1 John 2:24
If you are struggling with the changes being brought about by the virus and your world is pitching and shifting and you feel out of control then perhaps it is time for all of us to check our foundations. These foundations are not in the so called 'new normal' In fact I have concluded that anyone who claims to know what the 'new normal' looks like is probably simply hoping that we can simply return to something settled.
The reality is our lives are going to remain dislocated for some time to come and our church life is unlikely to return to anything like its old patterns this side of 2021!
Interesting the bible has quite a lot to say about not being concerned about the future but taking each day as it comes.
"Therefore do not worry, saying, 'What shall we eat?' or 'What shall we drink?' or 'What shall we wear?' For the Gentiles strive after all these things, and your heavenly Father knows that you need them. But seek first the kingdom of God and His righteousness, and all these things will be added unto you. Therefore do not worry about tomorrow, for tomorrow will worry
about itself. Today has enough trouble of its own. Matthew 6:31-34
This is not a reason for not planning or considering the future, nor is it a plan for fatalistic acceptance of whatever happens. Instead it is a warning from Jesus not to be anxious or worry about the future but instead to trust that God is in control even when we cannot see his hand at work. It is also a challenge to pray, after all chapter 6 of Matthew's Gospel also contains Jesus teaching on the Lord's Prayer. If we really want to embrace 'normal' then actually it starts with prayer. I think quite often we tend to plan and then ask God to bless our plans rather than pray and ask God to reveal His plans or show us where he is already at work. This is not an excuse for inactivity and I have been constantly surprised this week of the multiple good news stories from churches who are planning and thinking about their future. In nearly all cases this is driven by a need and desire to reach out into their communities in new and innovative ways. I for one want to embrace Paul's words to the early church in Rome.
"For I consider that the sufferings of this present time are not worth comparing with the glory that is to be revealed to us." Romans 8:18
The early Christians and Apostles understood in a way perhaps that we need to relearn that our world belongs to God and whilst we may not always find it easy to see him at work God is always active and ahead of us to show us the way and to prepare the ground if only we would take time to stop and ask him. They also understood that whilst there would always be trouble, suffering and challenges these were opportunities to grow and learn and to point to the Kingdom. No wonder Peter wrote:
"Blessed be the God and Father of our Lord Jesus Christ! According to his great mercy, he has caused us to be born again to a living hope through the resurrection of Jesus Christ from the dead, to an inheritance that is imperishable, undefiled, and unfading, kept in heaven for you,..." 1 Peter 1:3-4
So if you long for a stable and 'new normal' you may be waiting a long time for every day is a new normal for the people of faith and once gone can never be repeated. We need to stop looking for something that may never come and instead embrace the opportunity that each day offers us. Alternatively to return to Stingray – expect the unexpected