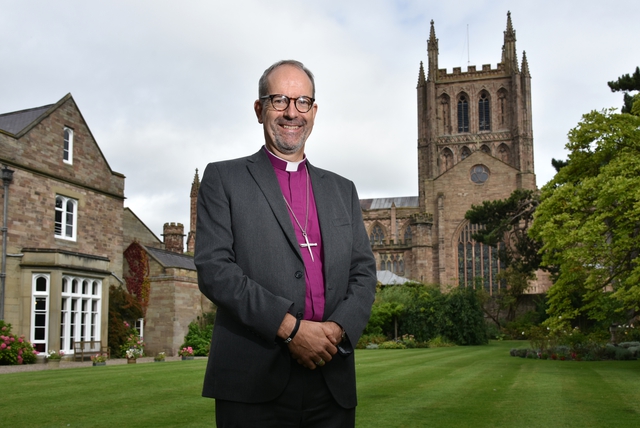 Dear Friends,
June marked the 25th anniversary of Refugee Week (19 – 25th June). People were invited to celebrate what compassion looks like in action so, I was proud to support the launch of a fundraising campaign, set up by our Diocesan Mothers Union. They are supporting those who are seeking asylum who are currently housed at The Three Counties Hotel in Hereford. They are raising cash to offer each person the dignity of choosing basic clothing items.
Asylum Seekers are the real face of refugees in our midst – 'the stranger.' They flee their countries of origin often in fear, searching for something better, the freedom to live and eventually contribute through work. They find themselves in a strange place, reliant on the mercy and generosity of others – us.
I was reminded how vulnerable we are when we rely on the generosity of others during my recent visit to Nuremberg. The kindness and generosity of my hosts were gratefully received, and I am thankful for our strong links of friendship with the German diocese of Nuremberg which have stood the test of time for over 30 years. I was there, visiting the Evangelical Lutheran Churches biennial Kirchentag. Despite being post-Brexit, I was warmly welcomed, and Bishop Elizabeth and her husband made our stay easy. Even with our different languages, cultures and histories, we are genuinely brothers and sisters through our shared faith in Jesus Christ.
It is a healthy part of Christian discipleship to get out of our comfort zone. To be in Germany, a country I am not that familiar with, forced a certain dependence. My hosts gave me accommodation, fed me and provided a huge amount of inside information to help enrich my stay. There is a rich tradition of such Christian hospitality going back to the earliest times, particularly to foreigners and strangers.
In Deuteronomy 10 we read, ".the great God mighty and awesome, who shows no partiality and accepts no bribes. He defends the cause of the fatherless and the widow and loves the foreigner residing among you, giving them food and clothing. And you are to love those who are foreigners, for you, yourself were foreigners in Egypt."
We have an opportunity to offer such hospitality to people who have arrived in our midst and live out the commandment in Deuteronomy 10. The writer of Deuteronomy doesn't speculate on whether the foreigners were smuggled into Israel slung under a camel. The sole criterion to help was the need.
I am very proud of our Diocesan Mothers Union who are seeking to provide support to our refugee friends. You can still give to the clothing appeal by arranging a retiring collection at a service and donating the proceeds online or if you can donate directly, please give what you can. All the details are on the website. Please be generous.
+Richard