Hereford County Hospital
---
The Hospital Chaplaincy Team provides pastoral and religious support to patients, their families and staff.
The Chaplaincy is open for visitors from 7am to 8pm daily. To contact the Chaplain please ask a member of ward staff or telephone the Hospital switchboard on 01432 355444.
The Church of England Hospital Chaplain Leader is the Revd Philip Roberts.
Email: philip.roberts@wvt.nhs.uk
Switchboard: 01432 355444
Office: 01432 364139 (answerphone)
Meet the Chaplain - The Revd Philip Roberts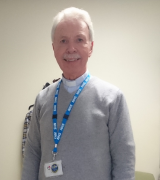 When did you start this role?
I completed 40 years in the NHS on 1 July this year.
What are some of the challenges and joys of the job?
The challenges are self evident. Supporting patients and their families when they are faced with news that will mean loss and grief for them.The joys are seeing patients restored in health.
Lastly, how does your faith influence your role as a Chaplain?
The Christian faith brings hope in times of despair and strength to keep going.
Meet the Chaplain - Andy Green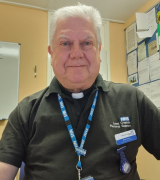 When did you start this role?
My name is Revd Andy Green a priest within the Diocese of Worcester and NHS Chaplain for Herefordshire and Worcestershire Health and Care NHS Trust. I commenced duties as a Chaplain 9 and a half years ago in 2014 at Evesham Community Hospital. Since then my role has expanded to become Chaplaincy Lead for seven Community Hospitals in Worcestershire and seven Mental Health In-patient Units across Herefordshire and Worcestershire.
What are some of the challenges and joys of the job?
Some of the challenges particularly with mental health relate to building up trust and confidence in me and the support on offer and demonstrating that regardless of my ordination as a priest, support is offered to those of all faiths and none, no hidden agenda, non judgemental and does not have to be religious. Amongst the joys of the role is finding a personal link with the patient be it religious or secular and supporting that patient and their relatives on their journey whatever direction that journey takes. To see a patient change from being anguished to relaxed is an absolute joy and to help a patient move from being anxious to finding peace a tremendous privilege
Lastly, how does your faith influence your role as a Chaplain?
My faith gives me the confidence to serve those who I am supporting, trusting in God to help guide me. It is also a source of reassurance to others that I can be relied upon knowing that not only am I accountable to the NHS I am also held accountable to the Church of England.
Contact Andy Green
Roman Catholic Chaplain: Fr. Patrick Lobo Tel: 07922 323603
Calls for a priest out-of-hours are directed to the patient's own parish priest. All wards and departments have a contact list.
The Chapel is open during the day, and service times are listed on the notice board.
Guidance for visiting ministers and faith leaders.
The Shrewsbury and Telford Hospital NHS Trust
---
If you would like to speak to one of the Chaplains then the contact details can be found below.
The Hospital Chapels are open 24/7 for the use of patients, staff and visitors and provide a place for people to reflect, pray or just be quiet. There is a Pebble Pool in place of candles.
Holy Communion takes place at both hospitals at 10.30am on Sundays and everyone is welcome to join us. It can also be received on wards for patients who are less mobile.
Emergency Baptism or Blessings can be administered at the request of the baby's family. Staff are able to contact the on-call Chaplain if requested.
Anointing and Laying on of Hands can also be administered by the Chaplains.
In an emergency, please ask a member of hospital staff to contact the switchboard to alert the on-call Chaplain.
Otherwise, please use the following:
Royal Shrewsbury: 01743 261000 Ext. 3638
Princess Royal: 01952 641222 Ext. 4519