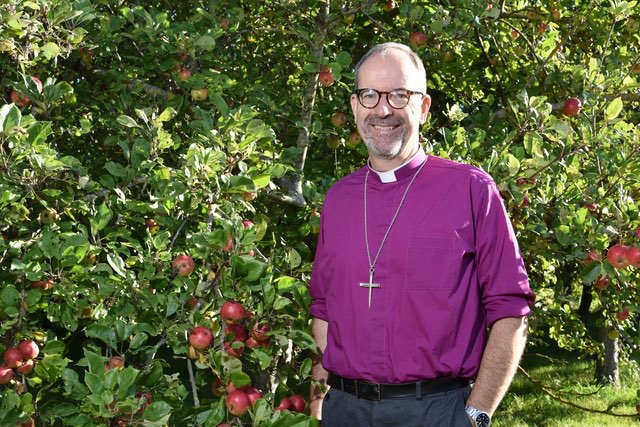 Hello everyone and welcome to this week's video. I'm sitting in one of my favourite places in the Cathedral, the Chapel remembering Thomas Traherne. His writings frequently explore the glory of creation and what he saw as his intimate relationship with God.The relationship he describes is ardent, almost childlike.Some might say he is the perfect poet and writer for a diocese like ours, marked as it is with such beautiful countryside.He also reminds us that our relationship with God is personal. But there is a certain naivety about it as well, Thomas Traherne's writings contribute something to a romantic idealisation of faith that can be excessively inward looking.The Kingdom of God that Jesus preached was decidedly communal and concerned with matters of justice as well as personal piety.
Last week, I shared a few reflections on love and the implications for us, especially around the recent outrage over the death of George Floyd. Several conversations over the last week convince me that I need to talk about this again more directly. I was profoundly shocked to hear about one of our clergy participating in a Black Lives Matter demonstration in the north of our diocese in solidarity with local youngsters with a social conscience.They received explicit, racist abuse from bystanders in the community to their face. Frankly, I have been shocked by some of the attitudes that have been uncovered as I've explored the recruitment processes in our diocese.In my last video I talked about 'casual' racism. Someone quite rightly picked that word up.In retrospect I should have used the word pernicious. I had in mind the sort of statement people make that begins, "I'm not racist but…. Insert your there whatever you but might be.I'm not racist but – I'm not sure our parish is ready for a BAME candidate as a vicar yet.I'm not racist but, all this stuff about statues is a storm in a teacup; I'm not racist but, at least the colonial British brought Christianity to Africa. I'm not racist, but these eastern Europeans have taken all our jobs. You could probably add your own examples.
Within the Church of England was can suffer from a pathological niceness that confuses politeness with collusion in unacceptable attitudes and behaviour, because we don't want to rock the boat. So, may I be explicit, all of the above statements are racist and need to be called out as such. At the very foundation of our Christian understanding of being human is the verse in Genesis Ch 1: 27, So God created humankind in his own image, in the image of God he created them, male and female he created them.You see diversity of race and culture is a part of God's rich self-revelation.Racism and patriarchy are in some sense blasphemous libels against God's creative intention. Every person bears something of the image of God in them which sin and frailty has never extinguished. The famous verse in Galatians 3 is equally clear, So, in Christ Jesus you are all children of God through faith, for all of you who were baptised into Christ have clothed yourselves with Christ.There is neither Jew nor Gentile (that was the great racial divide of the day), neither slave or free (that was the great economic one), nor is there male of female (that was truly radical in those patriarchal days when women were little more than property), for you are all one in Christ Jesus.Let me repeat that again, "So, in Christ Jesus you are all children of God through faith, for all of you who were baptised into Christ have clothed yourselves with Christ.There is neither Jew nor Gentile, neither slave or free, nor is there male or female, for you are all one in Christ Jesus.
There is a calling on the church to be rightly prophetic.We need to be a community that lives by what it believes. Sadly, there is racism in our wider community and there is racism within the church. We have a moral duty when that is exposed to do something about it.We need to repent of our shortcomings in this area, both historic and current and use that as a springboard by God's grace to do something different.Two things that are in and of themselves small, but I hope will give a signal that this diocese is working to combat racism.All our job adverts from now on will explicitly state that we welcome candidates from a black and ethnically minority background. Also, because I recognise our capacity for unconscious bias, we'll also be removing the front pages from application forms at shortlisting so we make our initial judgements on candidate's abilities and experience not their gender or racial origin.
I long for a church where we are truly diverse and representative of the communities we serve, where different ages, different races, different genders, different sexualities all find a welcome and a home. We have a way to go as a church locally and nationally on this. Our church buildings are now opening up for private prayer.Will you join me in praying for that vision to become a reality.
Have a good week, and may the spirit search our hearts to expose sins of attitudes and action so we may bring them to him to receive forgiveness and new life.
+Richard