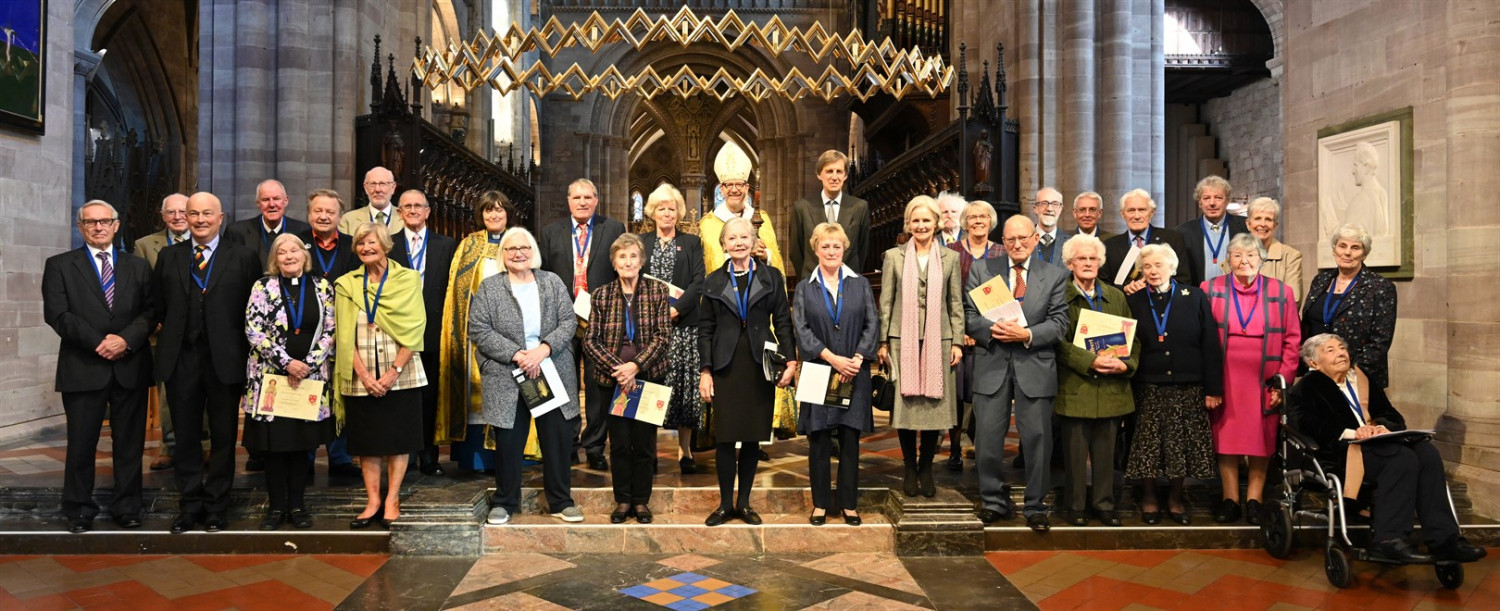 The Order of St Ethelbert - The 2021 recipients
The Order was founded in 2015 as a means of recognising and honouring women and men from the parishes of the diocese and beyond who have supported and nurtured the Christian ministry of the diocese in many and devoted ways. The Order will be presented to the successful recipients by the Bishop of Hereford in Hereford Cathedral on Sunday 10 October at 3.30pm. Each recipient receives a signed certificate from Bishop Richard, a St Ethelbert medal and ribbon and a copy of the book St Ethelbert, King and Martyr.
The following from across our diocese have been invited to receive the award for 2021:
Mr John & Mrs Sylvia Bland, Upper Sapey. For many services to the churches in the Greater Whitbourne benefice, including IT and weekly printing coordination and distribution, sacristy and related duties; also foster parenting over several years.
Mrs Maureen Bowran, Peterchurch. For thirty years' service as organist and choir trainer (also serving Vowchurch and Turnastone), PCC member for over thirty years, inspiration and funder for many church projects.
Mr Roland Bream, Much Wenlock. For long-term leadership roles within Shropshire Historic Churches Trust and the Trust's ground-breaking Open Garden Scheme, and devoted support of churches where he has lived.
The Reverend Marjorie Brookes, Bridgnorth. For over thirty years' exemplary service in the Bridgnorth team and Deanery as churchwarden, deanery secretary, reader, OLM priest and associate vicar; also sometime member of Bishop's Council.
Mr John Clarke, Hereford Cathedral. For engineering works great and small voluntarily undertaken at the cathedral over many years; John wishes to acknowledge the support of blacksmith Jeff Harris.
Mrs Liz Clutterbuck, Bosbury. For dedicated service to the church for over forty years, including Sunday school, bellringing, church choir, youth work, magazine printing and distribution, parish hall management and much else.
Mr Edward Croxton & Mrs Rosemary Croxton, Tenbury. Prominent and active workers for the church in a rich variety of ways for over fifty years.
Mrs Elizabeth Davies, Kimbolton. For services as a school governor and vice chair of Kimbolton Primary School for forty years creating a mutual collaboration with the PCC.
Miss Susan Gaulton, Ford. For committed service over many years as churchwarden, deputy churchwarden and reader, regular Open The Book assemblies in two primary schools, and faithful ministry as a day chaplain in the cathedral.
Dr Derek Glover, Ross-on-Wye. For faithful ministry as a reader with wide pastoral responsibilities including voluntary hospital chaplaincy and worship in care homes, and for work with the unemployed and homeless.
Mrs Freda Helme, Ashperton. For long-term service as chair of the parish council, of the WI, of the Consolidated Charities, and as sometime churchwarden continuing with much practical work in support of the church, churchyard and community.
Mr Mike Jefferis, Holmer. For many years of service as bellringer, maintaining church and grounds, deputy warden and general factotum.
Mr Raymond Jones, Weobley. For dedicated service as a cathedral warden, for work with Three Choirs Festival, coordinating work with the homeless and actively supporting the church in several Herefordshire villages.
Mr Richard Jones, Yockleton. For commitment as churchwarden and then treasurer over many years, raising funds for the new spire and overseeing both that project and the reordering of part of the church; treasurer of Pontesbury deanery.
Mrs Aileen Jordan, Middleton-on-the-Hill. Organist for forty-six years and member of PCC for fifty-two years; local primary school teacher for whole career who has worked diligently for church and community.
Mr Michael Kimbrey & Mrs Jean Kimbrey, Risbury. For decades of shared ministry as churchwarden and treasurer respectively, offering hospitality for church events and meetings over many years, contributing hugely to church and community life.
Mrs Ann Lawton, Church Stretton. For tremendous commitment to supporting St Edith's for many years: churchwarden, sacristan, children's work and many practical tasks; member of organising team for village fete for nearly fifty years.
Mr Roger Marshall, Sarnesfield. For many years of hands-on service as patron of Sarnesfield, including service as PCC secretary, chairmanship of the Weobley and Staunton Joint Benefice Council, active fundraising and production of the quarterly newsletter.
Mrs Susan Morris, Whitchurch. For tireless work in church and community; churchwarden, leading music, worship and work with children's activities; parish councillor and school governor; Community Coffee co-ordinator and lunch club supervisor.
Mrs Sheila Mullaney, Cradley. For years of service as churchwarden, flower arranging and church cleaning rota; re-founding the local branch of the Mothers' Union; Mothers' Union Diocesan President; Lay Co-Chair Ledbury Deanery Synod; PCC member and stewardship secretary for a length of years.
Mrs Anna Quelch, Leominster. For over twenty years of baptism preparation and welcome, a decade of leadership of the Priory Youth Group, holiday club organiser, and Christmas Shoe Box coordinator for over twenty years.
Mr Laurence Ray, Kings Pyon. For forty-four years of hands-on service as churchwarden of St Mary the Virgin, King's Pyon; musical leadership in founding the choir, planning service music and arranging concerts and recitals; expanding the provision of worship; setting up the Summer Painting School.
Mr Mark Sanderson, Ross-on-Wye. For over twenty-five years as director of music at St Mary's, actively promoting musical outreach in the community; leading on church reordering and lighting; initiating IT and digital outreach for church and community; organising art and photography exhibitions and the town's Christmas tree festival.
Mr Graham Trew, Llanfair Waterdine. For his efforts in promoting the Parish Giving Scheme and increasing membership of the Electoral Roll during almost a decade as churchwarden; organising successful fund-raising events; chairing and supporting several community groups; co-founding and working for over twenty years with the Llanfair Singers.
Mr Roland Watkins, Kentchurch. For sixty years' service as a PCC member at St Mary's Kentchurch and nearly fifty as churchwarden; churchyard maintenance; long commitment to ringing the bells and fundraising for their refurbishment.
Mrs Elizabeth Wills, Dixton. PCC member for twenty-four years and treasurer for twenty-two, regularly standing in as churchwarden; leadership in church fabric repairs and adaptations, churchyard maintenance and after practical work flooding; tireless work maintaining church/school links.
Mrs Maureen Williams, Whitbourne. For services to Whitbourne Parish Council for thirty years, enabling various neighbourhood projects addressing social needs.
Mr Mike Wilkinson, Credenhill. For committed work in church and community over many years as lay reader, mission leader, street pastor, police lay chaplain and school governor.