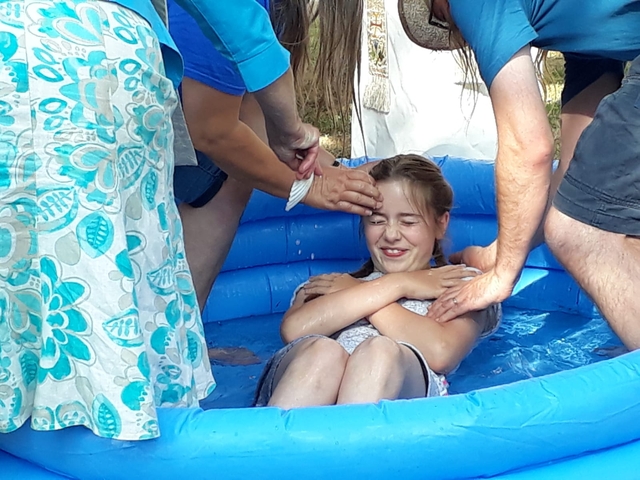 "They thought it was really nice and it suited both of my girls as it didn't feel as formal as having it in a church service on a Sunday as ours was so relaxed."
There were over a thousand Christenings or child baptisms in the diocese in 2017. These life event services are one of the main ways new people get in contact with their local church.
Ordinarily babies and children are welcomed into the church family during an individual service or as part of the main Sunday service, but there is also a third option, a Messy Baptism.
Earlier this year, Leominster Priory Messy Church welcomed thirteen-year-old Freya and sister Olivia aged nine, using a paddling pool outside in the priory's grounds. They were baptised after Freya asked at another family member's Christening if she could also do the same. Their mum, Kate Ingram-Woolf, described why they went for the very different experience:
"It wasn't an official option but when I mentioned about booking a baptism, Kathy [Leominster Priory Messy Church leader], suggested having a Messy Church one."

"We had it as part of the Messy Church and it worked really well.
The story of Jesus' baptism was retold as part of the Messy Church and there were many activities on the theme of baptism and the beginning of an amazing journey in a relationship with God. Crafts on offer included water footprint pattern making, footprint biscuits to decorate and eat, and, during the baptism ceremony, those gathered said the Lord's Prayer with actions.
Kathy Bland, Messy Church leader at Leominster Priory and Intergenerational Church Enabler at Hereford Diocese said:
"We have had several baptisms from our Messy Church congregation but generally people have wanted a more traditional service, not a Messy Church one, so this was our first in Messy Church."
"We hope that other people will decide to have a Messy baptism and it works particularly well for older children who can participate and make some choices around what happens."