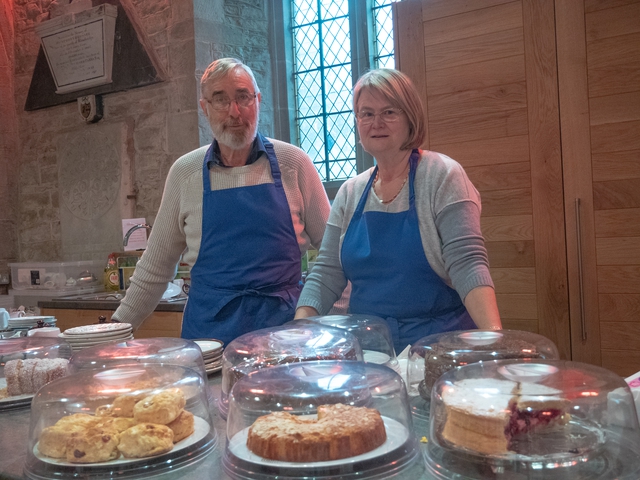 How often have you been invited to "take a pew" as a way of sitting down? At one church in Abbeydore Deanery you can now do just that in a space which was once full of pews. Take a Pew is the name of the Thursday afternoon tea and cake meet up at St Michael and All Angels Church in Kingstone. It takes place in their new kitchen and flexible seating area.
Church community members hope it will show people in the wider village that the church is welcoming, open to all and not just a place of worship.
Until the recent reordering, the church was a typical medieval building with old Victorian pews and no modern facilities such as running water or sewerage. Now there is a modern kitchenette, space for more recreational seating and a toilet. The church is now also accessible by ramp to wheelchair users and children in pushchairs.
Cliff Rose, PCC Treasurer at the church describes the thinking behind the project:
"Like most congregations, ours had dwindled and so we wanted to invite more people in who didn't see a place for them in church."
The multi-use space is also a very welcome addition for tea and coffee after church services, as, previously, water had to be brought in for both making the drinks and washing up afterwards.
The kitchenette has been sympathetically crafted from former pews by woodwork students at the local college, saving the church money and increasing the involvement of the wider community. There are also glass tiles with religious symbolism, including St Michael, on the walls – ensuring the servery maintains the feel of a church.
Kingstone is a large village and the village hall is in demand by community organisations, so having a second space, which people can use for meetings and events, is a great way for the church to be active in community life.
But it doesn't stop there, as Cliff explains:
"One of the next phases will be to have a board on the B4348 because it's just down the road and of course all the tourists travelling between Ross and Hay could well be thirsty by the time they get here."
"Even from day one, we were surprised at how quickly many people became regulars. It provides a chance for people to sit down and talk to friends. I'm not sure how often they would see each other the rest of the time."