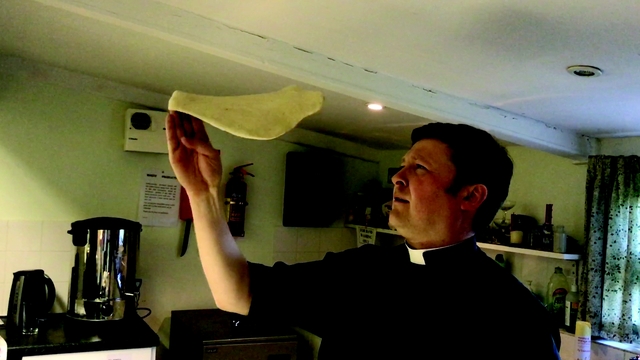 "Everyone loves pizza"
enthused curate, Revd Paul Roberts, as he unpacked the homemade pizza dough, cheese and tomato paste in the village hall kitchen,
"we make them together and then while they're in the oven we discuss a topic or look at a bible story and draw out some questions they might have about it."
He's busy preparing for the start of this week's Pizza Club run by Bartestree Cross Group of Parishes, which sprang out of a need for young people after confirmation to continue their Christian faith journey. Running for 18 months, it began in the living room of Revd Paul's house but soon outgrew it and now takes place, once a month in Preston Wynne village hall.
Paul continues:
"Obviously confirmation classes can be quite formal as there's a certain amount of information you want to convey whereas this is a much more relaxed atmosphere which really helps us to touch on questions about faith in a more spontaneous way.
"Thinking about how the generations work together giving our young people some time where they can make friendships and talk about their faith in a safe and relaxed atmosphere, that really helps to bring them into the wide family of the church.
"Eating together is also important"
Paul explained:
"When we look at the bible, we see Jesus doing a lot of teaching in informal settings, but he would also take his disciples and break bread with them. To come together, to eat together and learn together is a really fun way to teach our young people about Jesus."
"Pizza club is a great example of a way we can keep our young people interested and grow them spiritually and also help to grow the church numerically."
Initially drawn from confirmation classes the pizza club is open to all young people in the benefice with 12 or more attending each month. So what do the young people say?
"We don't just learn about Jesus, we also learn about each other"
However, it's not just for young people, parents say the club has encouraged them to attend church. One mother described the change it has brought about in her daughters:
"It's the highlight of the month for them. It's been really lovely to see how much they've grown spiritually The whole process is very enveloping and it's very much part of their life now."