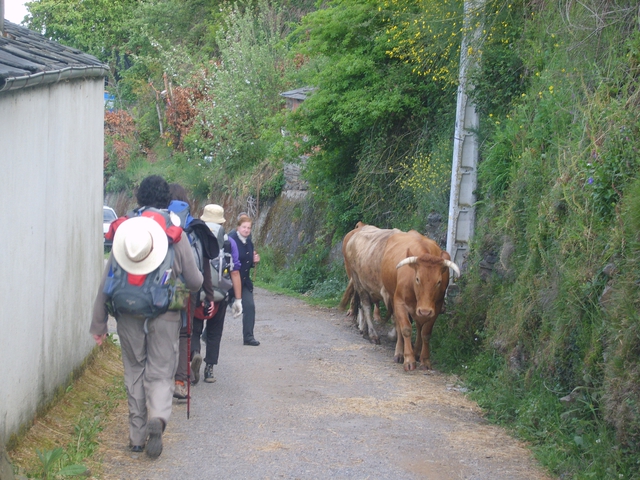 A priest from Herefordshire has become one of the first Anglican chaplains to serve the Diocese in Europe's Camino Chaplaincy, in Santiago de Compostela, the destination of the pilgrimage route that was recently highlighted in the BBC TV programme, Pilgrimage: The Road to Santiago.
Over 300,000 people walk all or part of the different Caminos (ways) each year. Father Bob Bates is one of a team of Chaplains, both female and male, offering pastoral care and worship to pilgrims as they arrive in the city and it is hoped to extend this care in due course to pilgrims prior to arrival, and as they walk their chosen route.
The Roman Catholic Cathedral offers a Mass in English, among other languages, each weekday and Saturday, but the Camino Chaplaincy can now offer services using Church of England liturgy, close to the city centre, to Anglicans and others who might wish to come.
The chaplains will probably stay for perhaps two or three weeks at a time and must be ordained, must have walked 100Km of the Camino (or cycled 200Km), and must have appropriate approvals from the Diocese in Europe. Lay people may have a supporting role to play.
Speaking before he left on his first trip out, Bob described the idea behind the chaplaincy service:
"There are many non-Roman Catholic pilgrims on the Camino who do not have the opportunity to celebrate their journey's end with Holy Communion, or to share their experience in a prayerful way, but there are insufficient qualifying residents in the city to establish a traditional Chaplaincy, so with a congregation that is passing through, we are looking to do something new."
"The initial idea is that we will be able to offer Holy Communion on Sundays, and in the week, to anyone who wants to come, and also a listening ear for English- speaking people who want to share their experience at a weekday Open-House held at Egeria House."
There are many different Camino routes. The most popular of these, the Camino Francés, stretches over 500 miles, from St Jean Pied de Port in France to the Cathedral in Santiago.
Bob continues:
"It is possible that as well as spending time in the city, Chaplains might get out onto the Camino to join some of the pilgrims, greeting them and helping them to share what God is doing for them on the final stage of their walk."
"Unlike a more regular chaplaincy with a fixed place, the chaplains, are ministering to people who are on the move, who may want to share things as they go."
"Santiago is one of those places that people talk about – where heaven is very close, and this idea is stretched along the Camino as the pilgrim senses the spirits of those millions who have walked the same journey over the past centuries."
"I would ask people to pray for us and I hope that people who have done the Camino will come to know that people are doing something to minister to the pilgrims who like them have walked the walk."
The Camino Chaplaincy is entirely self-financing and kept alive by the hard work of volunteers and the donations of former and current pilgrims. For more information and up to date info see: