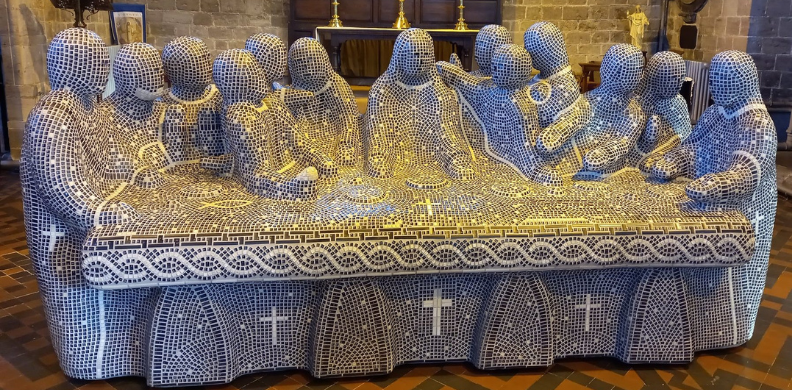 Leominster Priory has a brand-new attraction this Easter, as the glittering life-sized Last Supper pays a visit to the Priory.
The Last Supper is part of a new arts programme at The Priory. The installation features a slightly larger than life sculpture of the Last Supper made from discarded computer keyboards. The arrival proved a logistical challenge due to variations in the floor levels inside The Priory. The exhibit had was carefully inched into place by the team and is located at the east end of the Norman nave.
The Priory has already welcomed many visitors from local schools and the wider community with regular tourist coaches spotted, dropping people to see it and our famous ducking stool.
"The sculpture was created by the artist Peter Barnes. It is constructed from fibreglass and covered in over 5500 keys from discarded computer keyboards. It includes bible passages and prophetic words. It is an incredibly tactile installation," explains Team Rector, Fr Guy Cole. "The Last Supper is so well known yet; something is rather 'other' about this sculpture. One can stand before it and imagine sitting in conversation with the characters at the table. Every Sunday, we stand around it having coffee after a church service. We all enjoy spotting new words or Bible passages. It certainly sparks conversation."
The art programme at Leominster is expected to include at least one new installation every year. "The aim is simply to bring people into the magnificent Priory building to explore it and perhaps leave with a greater sense of wellbeing." Adds Fr Guy.
The Last Supper can be seen at The Priory until September 2022. The building is open daily from 8.30 am to 5 pm. Visitors are encouraged to walk in. It's completely free to visit, with no need to book tickets in advance!