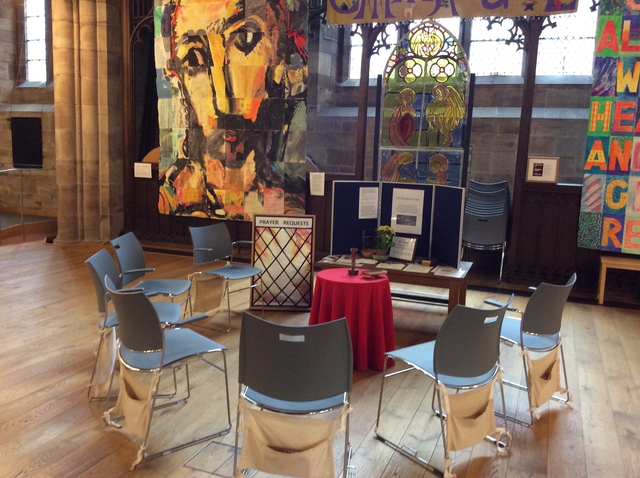 We are excited to announce that we have appointed Revd. Andy Dodwell as the new Associate Vicar of St Peter's, Hereford. He comes with much experience and a passion for communicating God's love in relevant ways to people from all backgrounds. We are excited by his energy and vision for St Peter's and are looking forward to seeing the new team come together.
Until the beginning of this autumn, Andy was Vicar at the churches of St John the Baptist, in the parishes of Newport and Bishop's Tawton, and Rural Dean of Barnstaple, in the Diocese of Exeter.
He said:
"I am really looking forward to this move, it feels like everything has come together at just the right time. We continue to pray that we can make the move without any local lockdowns and I am excited about getting to know the people of Hereford.

"At every stage, we have felt God nudging us and saying 'trust me and I will give you everything you need' -there have been too many coincidences to ignore. Years ago, as a student in Manchester, I remember walking the city centre and wondering how the churches could make God's presence known to people working and living there.This was a long time before I was ordained and well before pioneer ministry was ever a concept – now I'm taking on a role to build a city centre church and reach out into the community."

"One thing our kids were sad about was leaving the classic Devonshire ice-creams behind, but during a recent visit exploring the city of Hereford, we kept seeing ice-cream vans everywhere- they felt reassured that God knows and cares about even the small things."
Andy is married to Carolyn and they have three children Emily 13, Lois 10 and Sam 6 who will be attending local schools. The family are looking forward to the move and hope to be settled into their new home over October half term.
Andy Morgan, Team Vicar of St Peters and St James Churches said: "I just knew Andy was the right fit for us. I'm thrilled to welcome him to our Diocese and begin the work to build this new ministry team in our city."
Revd Dodwell will be installed in his post in November by the Bishop of Hereford at a special licensing service to be held at St Peter's.