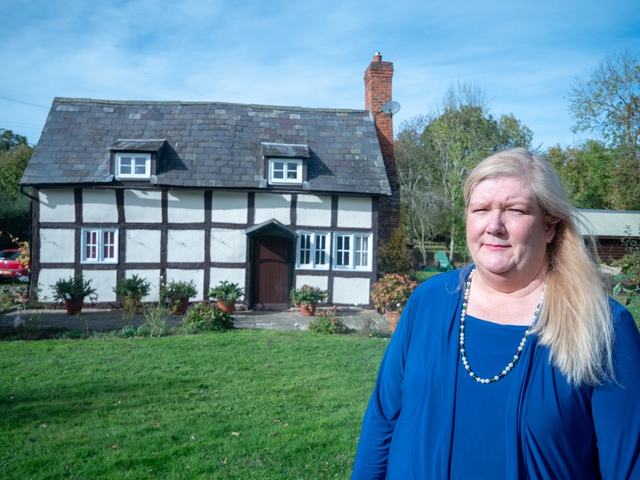 "I dived under the table to hide from someone at the door, worried that he'd see me. I hardly ever went out because I was scared someone was waiting on the driveway."
Jenneke Bryant lives in a lovely village in a beautiful part of the diocese. Her chocolate box cottage and garden are a delight but, five years ago, her seemingly perfect surroundings were a fortress; she and her husband were living under siege from doorstep collectors.
The descent into debt all happened rather quickly when Jenneke lost her job and her husband's wages just didn't cover all the bills.
It got progressively worse, overwhelming them in the space of four or five months.
Jenneke is tearful and emotional as she remembers a desperate time when unopened mail terrified her, withdrawing from family and friends in case anyone should notice,
"The emotional burden was massive and we couldn't get out of it on our own."
It was after she hid under the table from the caller that she realised they needed help, professional help to deal with their situation.
One of the most alarming aspects is that the couple are by no means poor; Jenneke had always, until that point worked, and her husband, Colin, has always supported them as a family.
Jenneke, who is now a churchwarden, looked for debt help online and came across Christians Against Poverty or CAP.
"A lovely lady answered and her compassion reduced me to tears."
"They said we will deal with it together; we will draw up a budget and get agreement from your creditors."
Christians Against Poverty, which works only through local churches, supports people in desperate need. It also runs courses teaching people about money management, living on a low budget and running a home.
St Peter's Church in Bromyard is launching the CAP Life Skills course in November and volunteers are already visiting local schools to teach children about financial responsibility. Helen Combes is a volunteer with CAP in Bromyard:
"Our son was killed in an accident. Three years on when we had got over the shock, we thought we should be giving to others."
"We heard a CAP interview and we thought we shouldn't keep grieving but help people."
"6,000 people have become Christians through CAP"
"God knows who is going to respond, but he also knows that we should care for the poor, the widows and the orphans, even if they don't become Christians, and that's what it's all about."