Click here to download article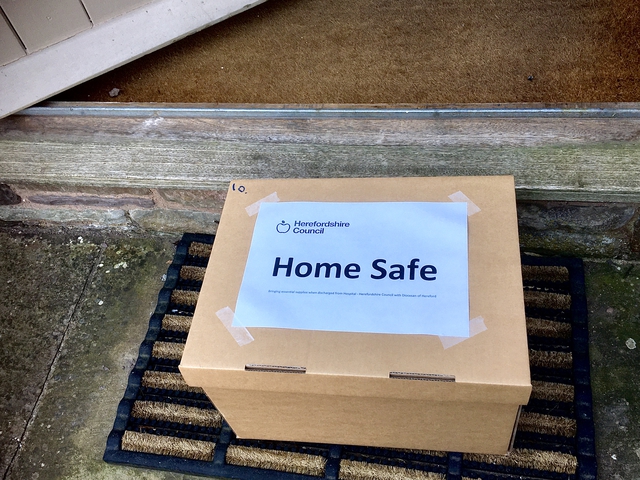 FOR IMMEDIATE RELEASE
Home Safe from Hospital
It's been a busy few weeks in Hereford Diocese, while local people are doing their part to support the current pandemic by staying home, the team at the Diocese working in partnership with Herefordshire County Council and Wye Valley NHS Trust have developed and launched a brand new service, helping people in the community to return home safely following a hospital stay.
"The support service is a brand new partnership and the church is ideally placed to help those trying to put their lives back together" explains, Richard Jones, lead co-ordinator at Hereford Diocese.
The Home Safe from Hospital team forms the last piece of the jigsaw when it comes to getting people who have recovered from or who have been in hospital for a stay, to be discharged from hospital, back home and settled safely.
"For many older people it's difficult right now, much of the usual care support systems are not on hand for older people and their friends and family are unable to visit in the way they usually would so that's where we come in. The local hospitals needs to ensure it has beds available for patients with Covid-19" says Richard.
The Hospital discharge team arranges transport for people from hospital, taking them home, where they are met by one of the volunteers from Hereford Diocese. All volunteers are fully DBS checked and are typically members of the local church this can also mean the local vicar.
"The church is uniquely placed, in that we have people in every community. All our clergy, lay leaders and diocesan staff are fully DBS checked and are often well known to people in our rural diocese. Many churches have a 'pastoral' visiting team who are trained for exactly this kind of thing. In some areas, the local community support and good neighbours groups have also joined us to help deliver this service – it's a real team effort" Richard explains.
Rev Linda MacDermott, Curate of the Kington Parishes and a volunteer from Kington, Herefordshire said: "I am delighted to be a part of this scheme. Locally, we have helped one local resident settle back in following a stay in Hospital.
"The experience really helped all of us in our Church to understand what people need. I think for many older people in this situation, the most precious part is a conversation with a real person, it helps them to feel they are loved and not alone.
"It is a real tonic for these times of social isolation and an opportunity for us to show our faith in action by living out the commandment, love thy neighbour."
Volunteers include seven local referral teams, who arrange for home-visitors to arrive at the home in advance, help the person, put heating on, turn on lights and arrange delivery of an emergency food parcel if needed. Working with other agencies to make sure they have an ongoing routine of support in the days and weeks ahead is also an important part of the role. Before leaving the volunteer arranges a follow up visit for the next day to check the person remains safe and well at home.
The scheme operates across the county of Herefordshire in partnership with the local Wye Valley NHS Trust and Herefordshire County Council Adult Social Services team.
It generally works to support the elderly, frail, vulnerable, and socially isolated, but - as with many other services in these times it may adapt to meet the current situation.
ENDS
Notes for Editors
Photo: Food parcel delivery left for patients by volunteers at Hereford Diocese.
Please contact the Diocese of Hereford Communications team to arrange interviews.
Email: Sarah.Whitelock@hereford.anglican.org
Mobile: 07889 186316
About Hereford Diocese
Our worshipping community is made up of 12,800 people of all ages and backgrounds.
Nearly 8,000 people attend a service each Sunday and 12,000 children attend one of our 78 schools and academies.
With 420 churches - we are the Church of England in Herefordshire, south Shropshire and parts of Monmouthshire, Powys and Worcestershire. Our usual Sunday congregations are the largest proportion in the country at 3.9%.
Our clergy and readers also carry out 55% of funerals in the diocese, the highest percentage in the Church of England and we are second for the number of baptisms. 27% of babies born in our diocese are christened and welcomed into our church family.
(Source: Church of England Statistics for Mission 2016)
We were founded in 676 AD and cover roughly 1,650 square miles with many of our church buildings of historic importance.
Serving 326,000 people we are part of the Church of England which itself is part of the wider Anglican Communion.