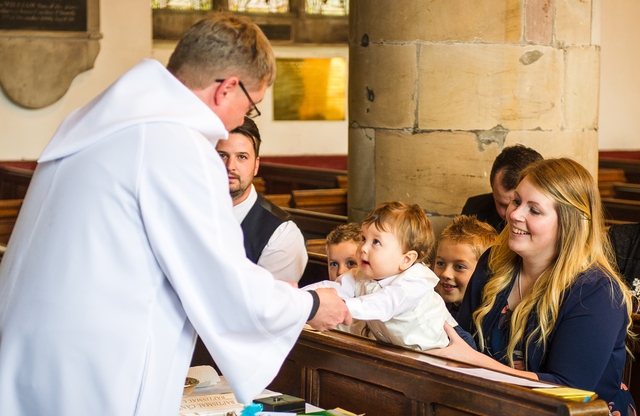 So many of the people who come to our churches asking for an infant or child baptism are not a regular part of our church community.
How do we welcome them and nurture a Christian presence in their lives?
Revd Matthew Stafford in the Wenlock Team Ministry in south Shropshire has seen a growth in the number of baptism enquiries, his efforts could be seen recently on A Vicar's Life.
"We forget that for a lot of people the only time they may come into a church building is for a wedding or a baptism or a funeral, which mean's we've got to go all out to make sure they get a genuine heartfelt welcome.
"It's really important from a teaching point of view that a baptism party go away knowing about the significant symbols of baptism, firstly the oil and secondly the water."
In the Church of England, we have a unique position of our churches being the parish church for everyone. Revd Matthew continues:
"I really try to ensure that parents understand that children are baptised on the understanding that as a family you will help them grow in God's love and the same applies to Godparents.

"We send out baptism anniversary cards through our Mother's Union and we send invitations to our Christmas, Easter and Harvest services to families who have had a child baptised.

"It's just trying to ensure you keep the doors open for those that we have the privilege of welcoming into the Christian faith through baptism."