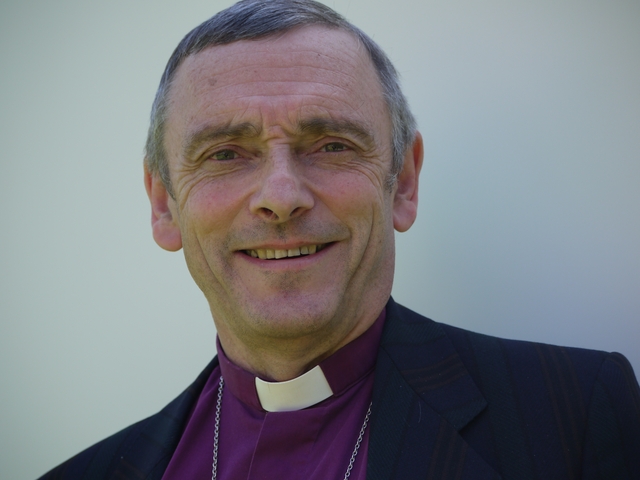 The Bishop of Ludlow, the Rt Revd Alistair Magowan, has today announced he will retire at the end of April. He has been both a Suffragan Bishop and Archdeacon in the Diocese of Hereford since 2009. Bishop Alistair's last official service will be on Easter day 2020 with a farewell in the Cathedral later that month. "Bishop Alistair has exercised a significant role in shaping the Diocese of Hereford over the last 11 years," said the Bishop of Hereford Designate, Rt Revd Richard Jackson.
Bishop Alistair expressed his gratitude for the many partnerships between Church and local community across the diocese of which he has been a part. He said: "It is a privilege, joy and humbling experience to have worked with so many wonderful people and organisations across the whole diocese over the last 11 years. As bishop it has also been my privilege to ordain, baptise and confirm many people over the years, and a great joy to be involved in the appointment of nearly all of the clergy who currently serve the churches of the Ludlow Archdeaconry which covers parts of North Herefordshire and South Shropshire."
"I know Bishop Alistair from national and other roles. His skills have played a vital part across the whole Diocese in shaping its ministry and direction over the 11 years he has served as Bishop of Ludlow," said the Bishop of Hereford Designate, the Rt Revd Richard Jackson. "He has acted in a unique role as both Suffragan Bishop and Archdeacon, providing pastoral care, love, kindness and support for clergy and lay leaders.These will be greatly missed. Alistair has also served as Acting Bishop of Hereford during two Vacancies in See and I am very grateful to him for his support during this most recent one.
"Alistair has been deeply committed throughout his ministry to the mission of God in this diocese. He has consistently championed growth and discipleship. He was a prime mover in establishing the Borderlands Chaplaincy and in developing ecumenical work across the diocese in new patterns of ministry and again being active in the initial development and then a huge supporter of the intergenerational mission work, established by my predecessor the Rt Revd Richard Frith. He has been a pastor and friend to many, and he will be greatly missed.
"There will be many occasions to express our appreciation to Bishop Alistair and to his wife Louise, over the coming months before his retirement in April."
Details of the timetable for consultations and the appointment of Bishop Alistair's successor as Bishop of Ludlow will be announced by the Diocese of Hereford in due course.
ENDS
Notes for Editors
Photographs available from: http://bit.ly/2QLIPCK
Please contact the Diocese of Hereford Communications team to arrange interviews.
Email: Sarah.Whitelock@hereford.anglican.org
Mobile: 07889 186316
About Bishop Alistair
Alistair Magowan was consecrated as the Suffragan Bishop of Ludlow in St Paul's Cathedral on 29th September 2009.
He assists the work of the Bishop of Hereford in the Diocese and is also the Archdeacon of Ludlow, which includes the Deaneries of Ludlow, Clun Forest, Bridgnorth, Condover, Pontesbury and Telford Severn Gorge.
He lives within his archdeaconry and is married to Louise, a self-supporting assistant minister in the Parish of Church Stretton.
A process to appoint a successor for Bishop Alistair will be announced in due course.
About Hereford Diocese
Our worshipping community is made up of 12,800 people of all ages and backgrounds.
Nearly 8,000 people attend a service each Sunday and 12,000 children attend one of our 78 schools and academies.
With 420 churches - we are the Church of England in Herefordshire, south Shropshire and parts of Monmouthshire, Powys and Worcestershire. Our usual Sunday congregations are the largest proportion in the country at 3.9%.
Our clergy and readers also carry out 55% of funerals in the diocese, the highest percentage in the Church of England and we are second for the number of baptisms. 27% of babies born in our diocese are christened and welcomed into our church family.
(Source: Church of England Statistics for Mission 2016)
We were founded in 676 AD and cover roughly 1,650 square miles with many of our church buildings of historic importance.
Serving 326,000 people we are part of the Church of England which itself is part of the wider Anglican Communion.